Driving in heels is hard and prickly. Why not in high heels stilettos that go flat with the push of a button? The Sheila's Wheels comes from the pink and black, it is stylish, and it is practical.
British car insurance company Sheila's Wheels has come up with 'Sheila Driving Heel' – a shoe with an original design idea that is driving women both stylish and safe. This shoe can transform into a stylish pair of stilettos heels with only a touch.
Shoe Heels have no grip, can get stuck under the pedal, on the other hand, flat shoes reduces force on the knee and lower back and increases the grip on the pedals.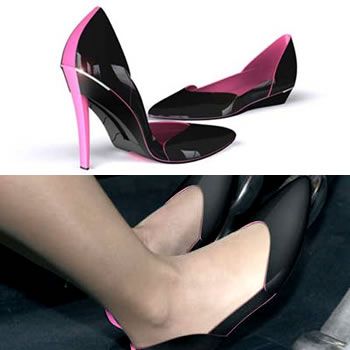 Convertible Heel Shoes
It is unbelievable that so many women themselves, their passengers and other drivers put at risk by wearing the wrong shoe or no shoe at all whilst behind the wheel. Stilettos, sling-backs and strap shoes are not the rational option when it comes to driving a car.
According to surveys, two thirds of women surveyed admitted to driving while wearing heels and approximately one third had worn flip-flops. Approximately 18% had no shoes worn while riding, which is dangerous and is currently illegal in some parts of the world.
The survey also exposed that there is a general lack of understanding among women with more than half of them permission to have believed that the trainers were the safest to drive in – despite their thick soles and fleshy control design that restricts the pedals.
These stiletto-heeled shoe is a futuristic concept for stylish women.
Written By : Usman Awan